She is the guidance counselor of the school.
Appearance
Edit
She has brown eyes and long brown hair that she puts into 2 ponytails. She has 2 white bead earrings that she wears in each episode. She wears a red sweater that gets ripped off by Kouichi in episode 5. Kouichi buys her a new red sweater that she wears in the next episode she appears in. She has a big red collar on her sweater. She wears a black miniskirt and a pair of high light brown boots with heels. She wears a purple and black triangle bra that is designed with the top of the cups being black and the bottom of the cups and the straps being purple.
Personality
Edit
She is really strict and if somebody doesn't follow the rules of the school she always scolds them. Especially Kouichi since he doesn't like to follow the school rules. Kouichi groped her breasts when she tried to make him put on the school uniform. She cares about her reputation to the extent that she got naked and made Shouma Ameku feel her breasts because he was putting her promotion at risk. She has a purple bra with a pattern unlike Kyouko Sonan's wired bra which is plain white.
She does not mind sexual contact with Kouichi after she finds out his groping ability's have improved is episode 5 since episode 1. She says "Skills not that of a regular student nor a Japanese businessman" as Kouichi motorboats her.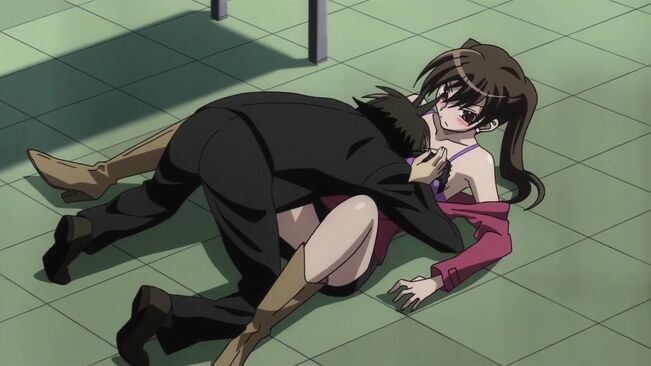 Ad blocker interference detected!
Wikia is a free-to-use site that makes money from advertising. We have a modified experience for viewers using ad blockers

Wikia is not accessible if you've made further modifications. Remove the custom ad blocker rule(s) and the page will load as expected.